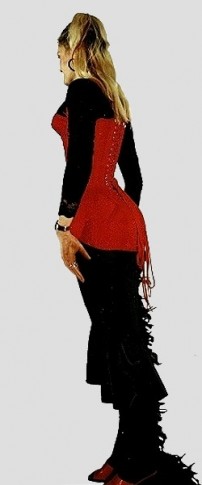 Contrary to the predominant silhouette of corsets the Straight-Front-S-Line corset shows some remarkable specialties in cut- and line-shape, which take care, in contradiction to general reserves, that this design creates excellent wearability and, additionally, a dreamlike silhouette and an upright posture at the same time.
That is the reason to name such a corset also a 'posture-corset' with the advantage that different fashionable aspects can be integrated.
The silhouette is created preliminarily by the design of the cut-shape. The implementation of rods for compulsive force by extra strong or specifically shaped spring-rods is not necessary with the design of such corsets. If such spring-rods would be implemented, negative impacts would reduce the comfort of wearability to the customer.
S-Line Corset 'Samira'
© Copyright by Sabine Zieseniss
The length of this corset-type can be adjusted to the individual feeling and can vary according your personal objectives. In any case, the design can be adapted more or less to the historical model, for instance, in the decision to integrate cups or none, all details are adjustable according to the customer's expectations, personal wishes and decisions.