With the following pages, I like to get you familiar with the theme "Corset" under general aspects as well as under some special points of view, presenting corset-variations with different styles and proposals of fashionable variations and combinations to meet your wishes and expectations of your personal outfit.
Fashionable Corsets … laced corsets are en vogue in modern times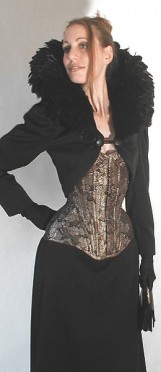 Definitively the corset lost its shadowy existence in the world of fetish and returned on the catwalks of modern fashion worldwide. Fashion oriented women wear corsets today as they wore it in the past, but today as well as lingerie or as an accessory on top of their outer gown.
Fashionweek Zagreb
NuNu-Comp with corsets from The-ardent-collection
Similar to the Pret-a-porter shows of fashion-stars like Gaultier, Dolce & Gabana or Vivienne Westwood , the top-designer of the world-wide Haute-Couture Fashion  presents increasingly also modern corsetry as indispensable  part of formal gowns and as fashionable accessory to every ball-robe.
It seems, the corset got nowadays again, as it had been  in the past, nearly indispensable in the modern world of the femininity. In addition, if it is obviously invisible, the corset is secretly active. The created silhouette reveals and accentuates all attributes of modern femininity as bust, waist, and hip. With each fashion-session and each catwalk-presentation of new design-ideas, corsets are indispensable basic body-shapers and silhouette supporters.
read more ...
Following this general guideline, you can see at following pages multiple sketches and photos of fashionable up-to-date corsets. Additionally you can see also historically inspired corsets of the Rococo and Victorian period as well as tightlacing corsets, designed and manufactured to your individual measurements. The last one can be of the type "Long-S-Line-Corset or Ice-Cone-Corset or a variation of this "Long-Line-Style", made according to your personal wishes and needs.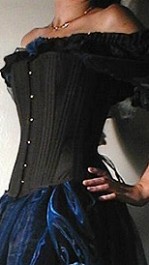 My design- and manufacturing-program contains all the needs and wants for admirer of Victorian wasp-waist-corsets, en vogue in the 19th century. Additionally I have the capability to create corsets with the exotic touch of erotic a la Moulin-Rouge or to fulfil dedicated individual expectations for your wedding dress or your bridesmaid-gowns.
Victorian corset