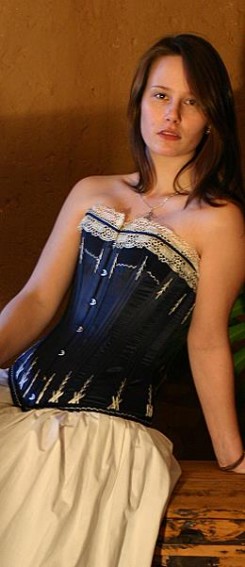 The picture at the right shows a replica of a corset originated in the late 80th of the 19. century
The top-layer of this corset was made originally with fabric of black silken satin and the inner layer of light-weight cotton-gabardine.
The boning is, according to the available material of this time, made from whalebone in a quantity of 40 stays, each with 1 millimeter thickness and 2,5 Millimeter width.

The corset-model 'Jasmin' is a precise Remake in cut- and line-shape, down to the details. Only the measurements are adapted to the needs of a today living customer.
(for details please click here).

The top-layer of this replica is also made of blue silken satin (100% silk) and the inner-lining of an adequate cotton-gabardine (100% cotton). Only one deviation from the original gots accepted: The originally implemented whalebone stays got replaced by stays of spring-steel of 0,5 millimeter thickness and also 2,5 Millimeter width.

Additional to the general overview on the corset you can see some details. For instance the position of the front and rear stays and how they are fixed by the decorative embroideries, as well as the upper torso with its corded bust-area (cording) to achieve the expected shape.

The objective of the embroidery is not for decorative purposes only, but also to keep the whalebone stays in their position. Additionally the stays get protected against twisting and to avoid damages of the top-layer by the edges of the stays (flossing).

For additional pictures please have a look to the album