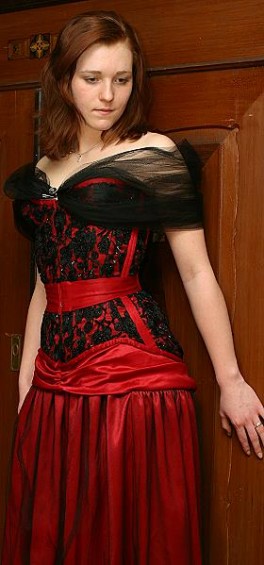 The picture shows the overbust-corset 'Solveigh' with cups. The corset is made from red Velvet-Satin with added silken lace trim from Milan, and additional with artificial beads. The front-closure is covered.
This corset is designed versus the other S-line-corsets with an integrated and precisely adjusted 5 cm-(2 inches) stem-waist. The necessary waist-band is fixed at the inside, but designed in the same way as the visible sash-trim at the outside.
The silhouette of all S-line-corsets I designed is the result of my cut- and line-shape, disclaiming the use of special formed or heavy steel-bones.
S-Line Corset 'Solveigh'
©Model-Copyright by
Sabine Zieseniss
The complete Outfit (corset and skirt) was presented at the Corset Ball at Bad Dürkheim (Germany)
Similar Corset
To enlarge the pictures, please click into the thumbnails