All sides behind ...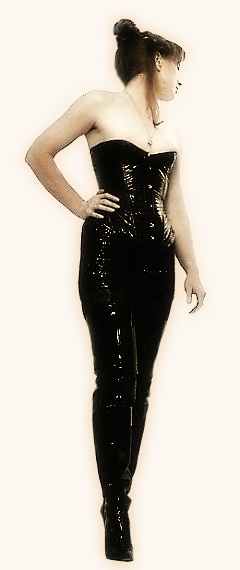 The presentation shows the overbust-Corset  "Pearl". It is designed for half cups and the used material is black vinyl (PVC), so called 'Lack'.
The Corset is worn in combination with a mini-skirt and thigh-length black boots. The skirt is embroidered with 'Paillettes',


The corset with its half cups, just covering the bust-nipples, is made with a lacing-pleat at the back.

An additional feature is an integrated and hand-drafted inner lining made of silken fabrics.

The eye-catching area is at the right and left side of the corset. These are created by accentuated sewing-lines and by little flaps underneath the waist-line to accentuate the hips, that creates the impression of a much smaller waist.
© Copyright Sabine Zieseniss